Vous n'êtes pas identifié(e).
Membre

Inscription : 2022-06-15

Messages : 2
A vendre: 1983 Alliance
Salut a tout!
Je ne parle pas très bien le français donc je vais écrire en anglais.
I'm from Portugal and I'm selling my Renault.
I've decided to share it with some real fans of the car, since in my country no one seems to care much about it.
I don't have the need to drive it, so I'm hopping some real interest comes along to get this baby back on the road.
It's fully original, in good shape.
Needs a bath and a little love and care (brakes IPO, etc), cause It hasn't run in 2 years, but it worked like a clock back then.
It's a 1.4 with a 5 speed manual, and it has it's original 47 thousand miles.
I'll leave a picture here, and the link to the OLX announcement (style Leboncoint).
I'm asking 2500€.
If you really have interest in it, please contact, and share with someone who migh want it!
We can arrange transportation from Portugal to France.
Merci pour votre attention.
https://www.olx.pt/d/anuncio/renault-al … GCTDy.html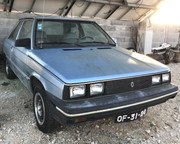 membre du RACP

Inscription : 2007-01-01

Messages : 2 976
Re : A vendre: 1983 Alliance
Hello
what is IPO ?
what need this car to be driven to France ?
Membre

Inscription : 2022-06-15

Messages : 2
Re : A vendre: 1983 Alliance
Hello
IPO is the inspection that's required to get an insurance to be able to drive the car on the road
Right now I don't have the time to do that but if there's real interest we might negotiate something
The car can get in a truck to be transported, by the Lisbon London Line for example